Bus Rental Prices
Prices
Are you looking for an affordable and reliable transportation service? Capital Charter Bus Spokane can provide you with the perfect means of transportation regardless of your group size and destination. We offer high-quality and flexible transportation services that cater to the needs of small and big groups in Spokane, Washington. Whether you are planning a corporate event, a field trip for your students or planning to pick up some guests for your wedding celebration, you can depend on us. Give us a call and book the best bus that your passengers will enjoy.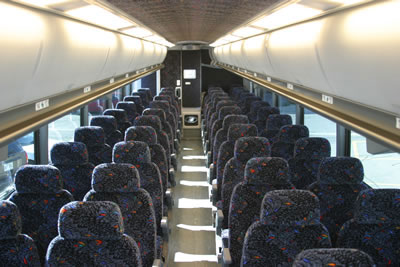 Great Value for the Money
Our prices are affordable and represent a great value for the money. For the price you pay, you can guarantee a safe and interesting trip for your passengers. Don't worry if you are traveling out of the state or planning to go to a nearby destination. We've got your back covered.
We have big and small vehicles that we can combine for a tailored solution that can accommodate your group comfortably. Our prices differ according to the bus you pick. Contact us and our representative will explain all the available options and suggest the most suitable one. You can pick the bus and leave the rest to us.
How to Determine the Cost?
We understand that you have a certain budget limit that you don't want to exceed. At the same time, you want to guarantee the best for your passengers. Our prices are not fixed and can go up or down depending on a number of factors. The following factors will affect the quoted price we offer you:
The Size and Type of Bus
Once you tell us about the size of your group, we will explain the available buses that can transport your passengers to their desired destination. We guarantee that everyone will have enough space to sit comfortably even if they are traveling on a long trip.
Our buses also feature extras that can make your passengers' trips more comfortable. These features can increase the rental cost. Talk to our representative and assess all the extra features that you want to enjoy on your upcoming trip.
Time and Availability
There are certain months when there is a high demand for our buses. If there is a popular event nearby there might be a shortage in the available buses that you can rent. In order to avoid a surge in the price, make sure to book your bus in advance.
Distance
We can either charge you per hour or per day. Talk to us about the details of your trip and we will explain the best way to charge you. If you are booking our bus for a long trip, we might charge you based on the distance or you can pay per day. A short trip will be charged based on our hourly rate.
Book The Best Bus for your Upcoming Trip
Contact us today and book the most suitable bus for your upcoming trip. Our amazing buses will guarantee an excellent trip that everyone will enjoy.